"Staff are very patient, kind and gentle with all the residents, and they are always warm and welcoming to friends and family."
-FH, Daughter of Resident

" The residents are always clean and tidy, meals are tasty and varied, and the home is clean, bright and welcoming. Our mum is very happy there and we have made some good friends there"
-FH, Daughter of Resident
" Woodlands Nursing Home is well located in Burgess Hill, convenient to the train station and shops. I rate the care, staff, management, cleanliness and responsiveness as excellent."
-SA, Friend of Resident

" The welcome we received at Woodlands and the friendliness of the staff there persuaded us that this was the best place for mum. I continue to be impressed with the staff."
-JN, Daughter of Resident

A large garden with raised beds and pond. Residents are encouraged to be active in the garden
We are a family run business grounded in values that put our Residents first. Our priority is to maintain a standard of care and services that improves the well-being and quality of life of our Residents.
We're small enough to preserve that important personal touch, but also large enough to ensure a high standards of care in a stable, safe environment. All staff are employed directly.
Our vision is based on the understanding that moving into a care home can be a difficult choice to make as there is a great concern for losing one's identity, sense of control, social role and hope for the future. We believe care and services should be planned and delivered in a way that enables people to preserve their wellbeing whilst managing their health risks. The aim is to provide a standard of care and services that address the fundamental needs of all human beings.
Contact us today on 01444 243 579 to discuss your situation - we are here to help you every step of the way. Alternatively, you can use the 'Contact Us' form to get in touch.

Exceptional Care
Woodlands Nursing Home
CQC Overall Rating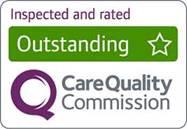 Latest CQC Review 20th March 2021
See the report

chevron_right
CQC Rating distribution
Of 4,152 nursing homes inspected:


Outstanding 4%


Good 72%


Requires improvement 22%


Inadequate 2%

Recommendation
9.8
Out of a maximum possible score of 10
(as at July 2022)