Involvement of families and friends is positively encouraged – there are no restrictions on the frequency and duration of visits

"Woodlands is a friendly and welcoming place with a homely feel to it"
-RB, Niece of Resident

"We chose Woodlands for Mum partly because it was recommended to us, and partly because we liked the homely feel. It feels like a home rather than a hotel, which is a positive, in our view"
-AS, Daughter of Resident

"I am very pleased with the way that my aunt is looked after"
-JB, Niece of Resident
Woodlands is not just a nursing home, it is a place to feel safe and cared for; a place to enjoy a life enriched by pleasant surroundings, good food, strong bonds and an excellent standard of care. We aim for excellence in balancing physical care needs with emotional ones, taking a holistic approach to caring for residents and helping them to lead as happy and fulfilling life as possible.
Our philosophy of care is to work together with our residents to find the right balance between comfort, safety, security, dignity, freedom, choice and privacy.
Contact us today on 01444 243 579 to discuss your situation - we are here to help you every step of the way. Alternatively, you can use the 'Contact Us' form to get in touch.

Exceptional Care
Woodlands Nursing Home
CQC Overall Rating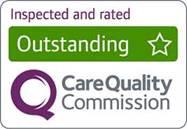 17th July 2017
See the report

chevron_right
CQC Rating distribution
Of 4,152 nursing homes inspected:


Outstanding 4%


Good 72%


Requires improvement 22%


Inadequate 2%

Recommendation
9.8
Out of a maximum possible score of 10
(as at Feb 2019)